Christmastime is upon us, though we have not had any snow in the last month here in Connecticut and the weather is confusingly blithe. In spite of the friendly temperatures and distinct lack of a need for boots/gloves/hat/scarf at all times, I have begun my Christmas shopping and am doing a bit of holiday crafting each evening. It seems to be time to bring the Yuletide to "Ghosts of 1914," so I thought I would write a bit about the wartime gift meant for everyone in the British Army: The Princess Mary Christmas Gift Box.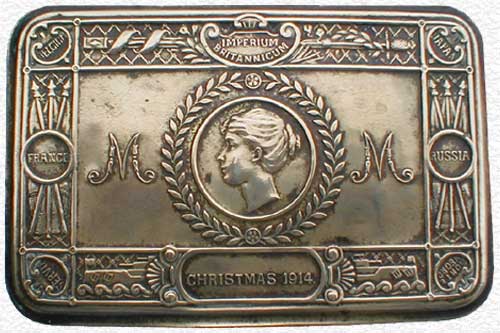 The Princess Mary Christmas Gift Box, Village of Kinnethmont, Scotland, website.
Christmas Box and contents for smokers, © IWM, EPH 1992.
Writing Stationery from a non-smoker's Christmas Box, ©IWM, EPH 2073.
The
BBC Schools WWI website
has an intriguing little interactive feature that includes a Christmas Gift Box among other artifacts that a typical British soldier would have amassed during his service.
Well, we'll close the lid on this little Christmas Box post for now, but we will continue the holiday-themed entries at "Ghosts of 1914." In light of the time of year and perhaps in honor of the ghosts of 1914-1918, I hope that you will consider a
holiday contribution
of some kind for veterans or soldiers serving today. Until next time, may your days be merry and bright.
© Fiona Robinson